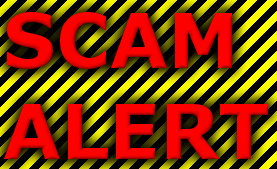 Reports have been made that some one or a group of people are calling individuals stating that he or she is from the IRS Fraud Department. One number that they are calling from and leaving as the call back number on voicemail messages is 202-552-6638. They have been reported to leave threatening messages claiming fines and potential federal prison time for lack of response and/or payment. Beware of this scam. If you have any questions about your taxes, you should contact the IRS directly at the number in their press release below.
To read the press release from The Treasury Inspector General for Tax Administration (TIGTA), please visit this site: https://www.treasury.gov/tigta/press/press_tigta-2016-07.htm
For informational videos from TIGTA, visit their YouTube page here: https://www.youtube.com/channel/UC4dSU0BElmzA_o7atb929AA
A reminder to anyone who receives these calls: Report them to TIGTA ASAP. They have apparently had some success in shutting down phone numbers, and going after these "people." The faster TIGTA gets the report, the faster they can respond.