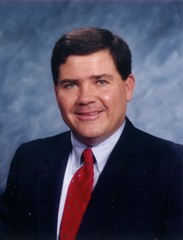 MONTGOMERY, ALA., September 28, 2007 – Legal Services Alabama (LSA) Board of Directors announced today the appointment of James H. "Jimmy" Fry as the new Executive Director. Mr. Fry will serve as the chief executive officer of LSA and will be responsible for the administration, supervision, and direction of Legal Services Alabama.
"Jimmy is a dedicated and passionate advocate who will be a great leader for LSA as it seeks to bring equal access to justice to Alabama's disadvantaged residents. He is extremely experienced both as a lawyer and as a director." said Frances Heidt, President LSA's Board of Directors.
Jimmy received his Juris Doctorate from Cumberland School of Law, Samford University and his Bachelor of Science from Athens State College, Cum Laude. In 1979 Jimmy began his professional law career in private practice in Athens, Alabama. He served as District Attorney 39th Judicial Circuit from 1982-1999 and as a Judge on the Alabama Court of Criminal Appeals from 1999-2001. Jimmy has taught classes at Jones School of Law and was the Director of the Law Enforcement Traffic Safety Division, ADECA from 2002-2003. Jimmy joined the Legal Services Alabama staff in 2005 as the Regional Director for the Southernmost Region.
Legal Services Alabama is a non-profit 501(c)(3) providing free civil legal and law related services to low income Alabamians in all sixty-seven counties through our ten local offices located in Mobile, Dothan, Selma, Opelika, Montgomery, Tuscaloosa, Birmingham, Florence, Anniston and Huntsville. LSA employs one hundred and two staff members including approximately fifty attorneys and thirteen paralegals. LSA provides free civil legal representation in the areas of housing, family law involving domestic violence, public benefits, consumer law and community economic development, and provides legal education to the low-income population at large.
LSA programs serve the poorest of the poor, those who otherwise would not have access to legal help.