LSA's Advocate of the Month for September 2017
By Michael Forton, Director of Advocacy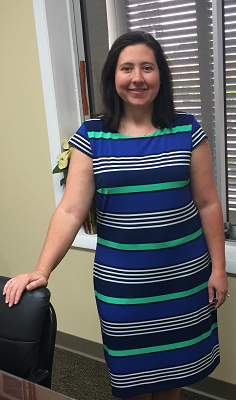 Our September 2017 Advocate of the Month is Rachelle Greczyn. Rachelle joined LSA's Dothan office in July of 2016. Rachelle is active in all of LSA's core service areas including: family, consumer, housing, public benefits, and education law. Two thousand and seventeen has been a great year for Rachelle as an advocate, including winning a federal law suit establishing a tenant's right to have mitigating factors considered before losing their benefits, and being named to Alabama's Domestic Violence Court Advisory Committee. Since starting at LSA, Rachelle has proved herself to be one of the hardest working and accomplished young attorneys with the program. In September, Rachelle proved this once again, by helping a large number of people with a wide variety of problems.
Among the people Rachelle helped this month was an elderly man who had lived for several years without running water in his residence due to a family probate dispute. After hitting several brick walls, Rachelle continued to pursue the matter, and found people in the city government willing to do the right thing and allow our client to live a normal life again by turning the water on in his name.
In another case, Rachelle went to court to help a mother of two young children retain her housing.  Although Rachelle's client choose to move from the property where she was living, Rachelle was able to retain her housing subsidy by negotiating with the client's landlord to meet her obligations in a payment plan. Because of Rachelle's intervention, the family avoided being homeless and was able to secure housing into the future.
In another case, Rachelle helped a battered mother of three children separate from her seriously abusive husband, after the husband broke her arm. In addition to securing custody of the woman's children and support for them, Rachelle was also able to ensure that the abuser would leave our client alone and would only be able to see the children at appropriate times. Rachelle helped another abused woman escape from a controlling husband and start a new life after a short term marriage.
Rachelle also went to court this month to help a client retain her housing, after her landlord removed the door to her home. Rachelle filed in court ensuring the client would not be removed, and secured the client's housing.
In September, Rachelle also helped a client protect her wages by asserting Alabama's constitutional personal property exemption, ensuring the client could continue to meet her monthly expenses.
This month, and every month, we here at LSA are very proud of the work done by Rachelle and the Dothan office. Thanks again, Rachelle.