Advocate of the Month for October 2017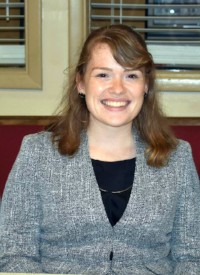 Our October 2017 Advocate of the Month is Andrea "Rae" Bolton, Staff Attorney in the Birmingham office. Prior to coming to work for LSA, Rae clerked for Judge Michael Graffeo and volunteered for LSA. Having only joined Legal Services Alabama's Birmingham office at the end of July, Rae has the least tenure of any Advocate of the Month named this year. After only three full months of employment, Rae is proving that it does not take years of experience to make a difference in the lives of needy individuals. Congratulations Rae!
Among the people Rae helped in October, was a senior who was the victim of a terrible scam. Last month, Rae helped her client begin to put her life back together, after she had been the victim of a financial scheme carried out by a person in another country over the course of a year, which eventually costed her approximately $70,000. The client, who is the full-time caretaker for her disabled son, had been financially ruined by the scam, and was forced to move in with family as a result of her losses. Rae represented the client against a creditor, who was attempting to collect a debt created by the scam. After Rae contacted the creditor and explained the situation and legal issues involved in the case, the creditor agreed not to pursue the client, allowing the client to begin moving forward.
In October, Rae also helped a client renting a uninhabitable home, to get out of his lease. The client, who was forced to live with leaking ceilings, bedbugs and faulty air conditioning, was unable to resolve issues with the landlord before coming to LSA. With Rae's help, he was able to legally break his lease and move on with his life. 
Last month, Rae appeared in court to help a client with Bipolar Disorder deal with debt problems. With Rae's help the client, who was unable to afford the high interest rates and late fees charged by her credit card, was able to resolve the credit card debt in the client's favor. 
In October, Rae was able to help a client who waited over a year to receive her security deposit back (after taking over the case from a departing LSA attorney). With Rae's help, the client was awarded double her security deposit back at trial, as allowed by Alabama law. The landlord had attempted to retain the deposit, even though the client was forced to move out when the government determined her home was not livable due to the landlord's failure to maintain the home.
Rae was also able to assist two low income families to protect their wages and keep the money to provide for necessities for their children.
David Webster, Rae's Managing Attorney, had this to say about Rae: "She has a quiet, thoughtful approach to legal issues, with a great eye for the small details that can make a huge difference in a case.  But don't be fooled by the humble exterior: she has a passion for our clients and their problems, which gives her a bulldog tenacity."
LSA is proud of the work of all of our attorneys over the years, and is very proud of the history we have created together. With new hires, like Rae, LSA is continuing to ensure great representation for our clients – not only today, but for years to come! Thank you, and keep it up Rae!
Michael Forton, Director of Advocacy