LSA Welcomes Passionate Attorney to its Birmingham Office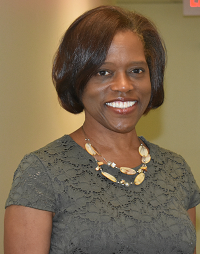 LSA welcomed experienced attorney Kendra Johnson to its Birmingham Regional Office in April.
A native of Birmingham, Johnson moved back to her hometown after spending some time in Los Angeles to volunteer with the Birmingham Volunteer Lawyers Program (BVLP), where she saw the extensive need of legal representation for the area's poor.
"I saw a huge need for people who really had pressing legal issues to get adequate legal representation. I was shocked at the number of people who really needed help but just couldn't afford it," Johnson said. "Because of that experience, I decided it was best for me to help those who needed legal services but just couldn't afford it."
Growing up in a family who believed in volunteerism, Johnson stated she has always had the desire to help others.
"My dad and mom had a history of service to the community … and that lit a fire under me to help other people navigate through areas," Johnson said. "It could be anything from a Breast Cancer Walk to visiting people in Assisted Living Facilities. I've always been interested in assisting people anyway that I can."
Earning a bachelor's degree in Business Administration from The University of Montevallo and a Juris Doctorate from Georgetown University, Johnson stated her desire is to make LSA proud by continuing its legacy of helping the underserved.
 "I want to continue providing very competent legal representation to the poor," Johnson said. "I want to be viewed as a very good lawyer who helps people. I want to have good story after good story … (which) would make people want to support us, provide the support to people, and make people want to come to us to get support."
Johnson further stated that she believes Attorneys at LSA are passionate people, "driven by the desire to help people."
"I just enjoy being here, and I believe I will continue to have a wonderful experience here."
Johnson loves to knit (crochet), read, and travel in her spare time. Her favorite destinations include Zambia in East Africa, Israel, and Iceland.
Johnson joined LSA's Birmingham Office as Staff Attorney on April 16. Johnson's specialty areas include bankruptcy, consumer law, and domestic violence relations. She is a member of the Birmingham Bar Association, Maryland Bar Association, Alabama State Bar Association, Continental Societies Inc., and Operation Hope Inc.
Johnson also mentioned the importance of LSA advocates highlighting their good work to the public.
"The more [good stories] that we have, the more we will receive funding from different private sources," she said.
To learn more about LSA or to make a donation, please visit: https://legalservicesalabamainc.fasttransact.net