LSA welcomes enthusiastic city volunteer and finance expert to its Executive Staff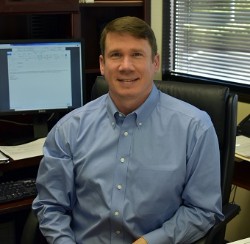 On March 5, LSA welcomed David Roberson, Controller, to head its Accounting department.
A native of Montgomery and easygoing and personable, Roberson worked at the Alabama Shakespeare Festival for 14 years – handling the organization's sales, marketing, and finances.
"I started there in college," Roberson said. "When I graduated, our current Controller hired me as an assistant and I learned the financial side of things. I continued to work in marketing, with activities and campaigns. The opportunity arose eventually where a Controller position opened."
With a passion for the community, Roberson volunteered with the Montgomery Museum of Fine Arts' Junior Executive Board, as well as River Region Connects, which provides a multitude of services to homeless individuals in the area.
"I grew up here, went to school here," Roberson said. "Volunteering is important to me, and as I've gotten older, I've wanted to get more involved in my community."
For Roberson, working for LSA was an opportunity to "give back."
"I've been interested in pursuing other aspects of nonprofit organization – organizations that really make an impact on the community," Roberson said. "When I saw the opportunity [to apply for the position] I was very excited and applied right away. I want something I could be passionate about – put my heart into."
Roberson believes his extensive experience, especially in Management, will benefit LSA overall. The goal: to streamline paperwork and identify business opportunities.
"I want to give ideas or to help solve problems – which is where I excel at," Roberson said. "I am able to help with the financials, as well as with any new programs that we need to work on to help identify solutions and make things more efficient. I want to make it a lot better for everybody who works for LSA."
Roberson has a bachelor's from Auburn University Montgomery and MBA [Accounting concentration] from Troy University. Roberson enjoys spending time with his nieces and partner and watching drama films at the movies.