LSA Welcomes another Rising Star to the Montgomery Office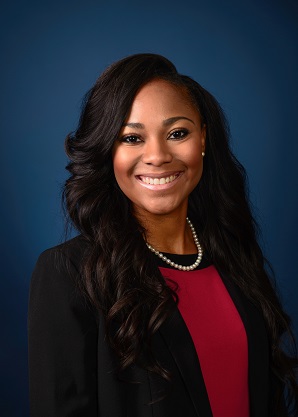 LSA's Newest Rising Star: Hilaire Armstrong
Legal Services Alabama welcomed Hilaire (pronounced the same as Hillary) Armstrong, as the newest staff attorney in the Montgomery office on Monday, August 14.
A native of Hoover, Alabama, Hilaire obtained both a bachelor's degree in Political Science/Spanish from Samford University in 2012, and is a 2016 joint Brock Business School MBA/Cumberland School of Law graduate. She also served as President of Women in Law while at Cumberland. She states that her path has been headed toward the practice of law for a while.
 "Even in high school, I did law academy, and I always made steps to become an attorney," Hilaire said. "Now I'm doing what I've always dreamt to be."
Public Interest law, Armstrong stated, is her primary focus.
"It's what I love to do. I believe everybody has a purpose in life to help people," Armstrong said. "I like the law and helping people, so public interest is where I've been, and what I've done."
Armstrong's passion for public interest led to internships with the Jefferson County Public Defenders' Office, the Alabama Senate, and the Jefferson County Family Court. After a post graduate fellowship at Cumberland Law School, Armstrong was the first law clerk for newly elected Circuit Judge Javon Patton. She describes why she felt that LSA is the right step for her.
"It's a great opportunity to help people with their livelihood," Armstrong said. "Very few people can find good legal help for civil issues – evictions, family issues (domestic, etc.) This is a good opportunity to help on the side that effects more people, in a greater way, than people realize."
Armstrong, who is fluent in Spanish, hopes to assist LSA in helping to serve its Latino clientele.
"I hope to make a greater impact and help the Hispanic community," Armstrong said. "I would like to be a force to help with that particular group. I want to leave an impact on legal services where people know that Montgomery is a place where there is civil help available."
Executive Director Artur Davis described how LSA found its newest rising star. "We have started making it a practice to recruit high quality talent instead of waiting for people, who may not know who we are, to come to us. I reached out for names to one of our board members, who happens to be the assistant dean of public interest at Cumberland, and she told me that she had one No. 1 draft choice in mind, and that was Hilaire Armstrong. We tracked her down and spent two hours making the sell that we need people like her, to get better."
Also a graduate of Hoover High School, Armstrong's hobbies include: Running and baking.
"I love to bake – cupcakes, cakes, I've got a crazy sweet tooth," Armstrong said smiling. "I love to bake muffins, cookies – my favorite are White Chocolate Oatmeal and Macadamia Nut."
Armstrong's hiring was made possible by a grant from the Alabama Access to Justice Commission. She is also an example of a millennial coming to Montgomery instead of leaving.
"I like the area, it's a prime place to meet people and network – to make those connections," Armstrong stated.