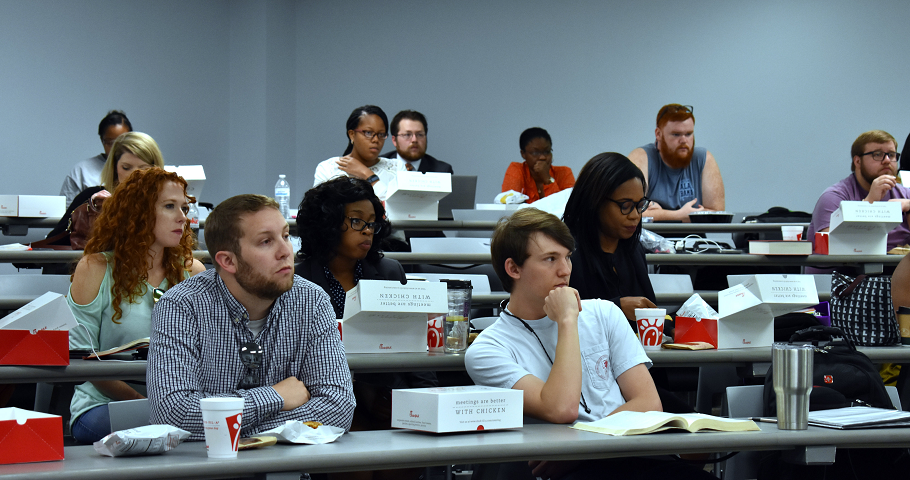 LSA speaks to Faulkner Law about the Importance of Legal Aid
By Desiree Taylor, Legal Services Alabama
April 14, 2017
MONTGOMERY, Al – "How can we make a difference?" Legal Services Alabama's Executive Director Artur Davis said, when addressing Faulkner Law students during Tuesday's Lunch with LSA event. "The powerful thing about our work is that all our employees have to do when they get out of bed in the morning to make a difference – is to show up for work and do their job." 
Davis, along with LSA attorneys Andriette Rowell, Stephen H. Last and Nannie Reed, led a panel discussion and Q&A highlighting public interest work and the services LSA provides to Alabama's poor population. The discussion on April 11 addressed the crisis of poverty in Alabama, and the need for more funding to support LSA's efforts in helping those who cannot afford legal aid.                                                                              
According to research from Alabama Possible, a statewide nonprofit that addresses systemic poverty through educational and collaborative efforts, there are more than 900,000 Alabamians who live in poverty. For many of the LSA staff, it's about helping those whom others have turned a blind eye to.
 "Nobody starts the week thinking, 'I plan to call Legal Services Alabama,'" Davis said. "They end up calling us because something happened to them – something that they didn't expect … Every single day we do something that is meaningful, that is important, and that leaves this world in a better place than where we found it. We need more people to do what we do."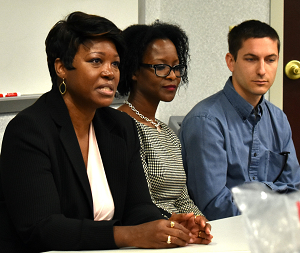 Andriette Rowell, Lead Attorney for LSA's Montgomery Office, said LSA gives her the opportunity to serve the poor and needy.
"What I do, is the satisfaction that comes from serving those who are underprivileged," Rowell said. "The satisfaction comes from being able to help someone get out of a violent situation, be able to help someone have more money in their paycheck to pay their bills and feed their children, or pay for housing." 
Before becoming an LSA staff attorney in 2014, Stephen Last was unsure of his true calling.
"It didn't take very long to realize why I do what I do," Last said. "The people who are our clients, either we help them or no one helps them. This is important to remember every day."
Nannie Reed, who joined LSA in January, gave up a career in the television writing industry to become a legal aid lawyer. She said that she is drawn by the chance to regularly design creative solutions for clients facing the legal challenges from poverty.  
Legal Services served 10,900 people in 2016, with 45 practicing lawyers currently on staff, a drop from 115 lawyers at LSA's peak. 
The organization, Davis said, needs help. "We need more eager, attentive, committed folks who want to join our ranks," Davis said. "Whether it's through internships or becoming a permanent staff attorney."
Faulkner Law Professor Kelly McTear said Faulkner's Law program supports LSA as a partner for justice.
"Many of our students at Faulkner Law feel a deep desire to be of service to the world around them. Our strong relationship with Legal Services Alabama allows our students to see ways to do that at all levels," McTear said. "We are grateful for the work LSA does for low-income populations, and are proud to be a part of that work."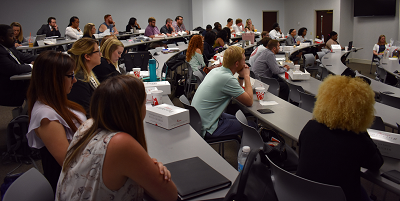 Faulkner Law students, who attended the event, said they felt inspired to pursue a career in helping the disadvantaged.
Margaret Wells, a Selma native, was impressed with the number of people LSA helps annually.
"I live in Selma, and I plan on going back to Selma to hopefully work with Legal Services," Wells said, regarding her plans after Law School. "LSA has a huge impact on the impoverished communities of Alabama, and it's an absolutely necessary service."
Enterprise native Cheyenne Young, said she was unaware of just how many cases LSA handles on a regular basis.
"I really enjoyed learning about all of the cases that Legal Services handles," Young said. "I've always had a drive to help others who are less fortunate than me." 
Legal Services Alabama serves low-income people across the state by providing free civil legal aid and assistance to provide solutions to poverty. LSA has seven offices located in Birmingham, Dothan, Huntsville, Mobile, Montgomery, Selma and Tuscaloosa, and a statewide call center based in Montgomery.