LSA Begins Partnership with Gulf Coast Veterans Healthcare System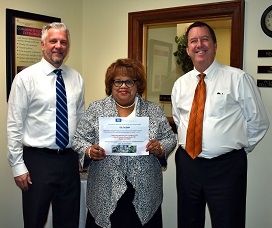 Legal Services Alabama and the VA Gulf Coast have recently partnered together to offer free civil legal services to low-income Veterans living in South Alabama. On March 8, LSA's Mobile office began offering civil legal services to veterans across Baldwin, Choctaw, Conecuh, Escambia, Monroe, Washington and Mobile counties.
Tim Kingston, LSA Staff Attorney, will assist veterans in such areas as Driver's License Reinstatement, foreclosure prevention, tenant evictions, Section 8 and public housing issues, as well as domestic violence divorces among others.
Kingston stated LSA and the U.S. Department of Veterans Affairs, are excited about the partnership and opportunity to serve America's heroes.
"We know that LSA has had a program in other offices and other parts of the state that serve veterans, and we felt veterans are an underserved population here in Mobile – in the eight counties we represent," Kingston said. "We know that a lot of vets have issues with homelessness, issues with accessing VA benefits, and matters that may have come up in their time of service, which have been unresolved. We really felt it was a strong need out there."
David J. Neslen, Veterans Justice Outreach Specialist (VJO) for the VA Gulf Coast, works as a liaison between Veterans and the court system. Neslen has seen veterans across Mobile, Washington, Baldwin, and Escambia counties who are homeless, face property/eviction disputes, and are in need of driver's license reinstatements for example.
Formerly with the Department of Veterans Affairs in Salt Lake City, Neslen saw success of civil legal clinics for veterans firsthand, and is eager for the opportunity to work with veterans facing civil legal issues in South Alabama. Neslen believes civil legal services are a must for the area.
 "I've been in this position for four years," Neslen said.  "[The civil legal clinics] was something that I wanted to start [in Alabama]. There were a lot of civil legal issues that I really couldn't help Veterans with. I think the clinic is a great resource for the veterans to have – it's filling a gap."
Kingston agrees, and expects a great turnout at the clinics, "A lot of vets didn't know that there were legal services available to them," Kingston said. "Veterans are just a snapshot of our society and demonstrate a need. We hope we can really do a good job for them."
LSA Deputy Director Jaffe Pickett stated, "LSA is pleased that Mobile is our second office to begin Veterans Services led by Mobile Regional Managing Attorney Ann Brown and Staff Attorney Tim Kingston. Our partnership with The Central Alabama Veteran Healthcare System has been very successful and is funded in part by The Daniel Foundation in recognition of the valuable legal services being offered to Veterans. Perry Myer, Montgomery Regional office staff attorney and Army Veteran, leads LSA's Central Alabama Veterans project.  In addition to providing high quality advocacy to assist low income and working poor families across Alabama with Housing issues, Consumer Defense and Public Benefits, LSA is proud to serve other vulnerable populations including older Alabamians and Veterans."
LSA's Mobile office will offer civil legal services to veterans the first Thursday of every month from 10 a.m. to 2 p.m. at 104 St. Francis Street, Suite 700. For more information about the clinic, please contact Tim Kingston at 251-433-6560 or visit: www.legalservicesalabama.org.
The next veterans clinic will be held Thursday, April 5 from 10 a.m. to 2 p.m.