Lisa Overton Joins LSA as Staff Attorney in the Birmingham Office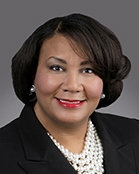 Legal Services Alabama (LSA) welcomes Lisa Overton to its legal team.
Overton, who began with LSA as a Staff Attorney on Oct. 10, believes her experience will aid in her work for LSA.
"I'm learning a lot in terms of subject areas," Overton said, who worked as a DHR Attorney in Huntsville. "My experience in local government might be a benefit in understanding inner workings of the services – county and DHR matters. I can contribute from the standpoint of the government side – helping our clients based on that internal knowledge that I have."
A native of Indianapolis, Overton attended Butler University, where she received a bachelor's degree in Sociology. Overton also attended Law School at Indiana University, Bloomington. Overton practiced in Greenville, NC until 2014, before moving to Huntsville to work in municipal and civil litigation, in the same year.
Being a lawyer, Overton stated, was something she never intended to be initially.
 "I took a course while at Butler and my professor was a Judge," she said. "I was so inspired and moved. The class addressed social issues. I became really interested. Law has the ability to influence social change, even if society is not ready for it. Thereafter, I decided to go to Law School."
While in Law School, Overton stated she enjoyed courses that pertained to Domestic Violence Law and Children of the Law. Starting her career in Social Services – representing the indigent, Overton and her family moved to Birmingham in July.
Overton believes a background in Sociology is helpful, especially when assessing client needs.
"It really prepares you for dealing with people in lots of different circumstances, and enhances your compassion and relatability," she said.
Lisa's husband Anthony, serves as Department Chair and Professor of Biological and Environmental Sciences, at Birmingham's Samford University.
The couple has three boys – 16, 12, 10, and a dog named Lucy. Overton enjoys robotics, basketball, volunteering, and Jack & Jill of America, Inc., with her children.