Legal Services Alabama welcomes two new attorneys to our team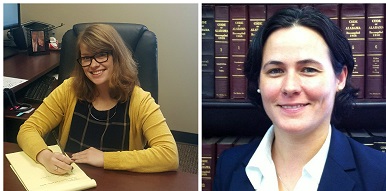 On July 31, LSA added two new lawyers to our team, Rae Bolton in Birmingham and Peyton Faulk in Montgomery.
A Jacksonville, Fla. native, Rae Bolton graduated from Birmingham's Cumberland School of Law in 2016, where she was an editor on the Law Review. After an internship with LSA's Birmingham office, and a clerkship with the Circuit Court Civil Division of Jefferson County, Ala., Bolton is ready to continue her passion for service.
 "As a child, it was always something that I thought about," Bolton said. "While at Birmingham-Southern [College], I took a law internship as a sophomore and shadowed a family friend attorney back home; it was a small firm but extremely hands-on. I always knew I wanted to help people. I knew my end goal was that."
Bolton, whose practice areas will include consumer law, family law, and elder law, stated she is excited about her future with LSA.
"I like the people in the [Birmingham] office," Bolton said. "I like the outreach programs that Birmingham does – Project Homeless Connect, Help Desk – it's exactly where I want to be. [Working for LSA] was not a hard decision to make."
 Peyton Faulk, who is joining the Montgomery office, is a native of Greenville, Ala., and is a former school teacher in the Montgomery public school system. A graduate of Montgomery's Thomas Goode Jones School of Law, Faulk has practiced law since 2008. She has been a successful solo practitioner, focusing on civil rights and employment law. She has worked as a Public Defender in Montgomery County, currently serves as Vice President of the Montgomery County Association for Justice, and has been twice selected to the Alabama Super Lawyers Rising Stars List.
"I've spent my career doing Civil Rights and discrimination type work," Faulk said. "Almost all of my clients have always been indigent. I wanted to get back to helping people."
Faulk, who will focus on consumer and housing advocacy, says that LSA's growing involvement in high impact strategic litigation was another factor motivating her to come to LSA, and that she hopes that her experiences can contribute to the growth of the high impact unit.
"I've got a lot of experience in federal courts, and I've also done a lot of appellate work," she said. "If I can help to teach others – that would be great."
Executive Director Artur Davis praised both hires. "We recruited Peyton to come to LSA because she is a perfect fit for where this program is headed: more federal court work, more of a focus on helping victims of racial injustice, more constitutional litigation. Our staff loved Rae when she interned for us, and they have been hoping to get Rae on our team for several years. We are delighted she is one of us now. These two lawyers are brilliant and committed, and are going to make a mark on our state for a very long time."
In her spare time, Faulk enjoys spending quality time with her three dogs – two Miniature Schnauzers, and Dalmation, as well as near the family pond.
"I go fishing a lot, and spend a good bit of time doing that," Faulk said. "I fish for Bass and Bream and Crappie."
Bolton, a Birmingham Southern undergrad, has one sister named Alexis, and a rescue puppy named Pippa, who she adores.