Legal Services Alabama welcomes Paralegal to its Selma Office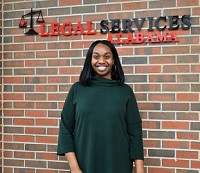 By Desiree Taylor
Legal Services Alabama welcomed Danielle Edwards to its Selma Office on Monday, December 18. Edwards, who will work as a paralegal to assist Selma's legal team, stated she is excited about her future with LSA.
"My first day working at the Selma office was an amazing experience," Edwards said. "We had our company's Christmas party, and my Supervisor invited a lot of Judges, Attorneys, and others who worked in the court system. I got the opportunity to meet a lot of great people! On my second day of work, I was able to learn a lot about creating documents to file in the court system for different kinds of cases such as divorces, custody/visitation, and Wills and estates."
A recent graduate of Shelton State Community College in Tuscaloosa, the Detroit native said she chose LSA because she believes in helping the indigent population.
"I love people and helping others," Edwards said. "On my first day of my internship with LSA, I've seen a huge difference in how LSA treats their clients versus a regular law firm. LSA's Selma Office really cares about their clients. I am very excited about being a part of LSA!"
With a personable and cheerful personality, Edwards hopes to offer "much support and relief" to the organization.
"I want to bring my great attention to detail, organizational skills, grace under pressure, and understanding of the law and its applications, to the company," Edwards said. "I love people and helping others that are less fortunate."
Felecia Pettway, Managing Attorney in the Selma Office, stated the staff is enthusiastic about bringing Edwards' skill set to the office.
"We are excited to have Danielle Edwards join the Selma Office Legal Services team," Pettway said. "We believe her skills, paralegal experience, and education will be an asset to our office. It is an honor to welcome her to a great organization!"
With an associate degree in Office and Administration in Paralegal, Edwards plans to complete a bachelor's and attend Law School in the future. In her spare time, Edwards enjoys working out, attending church and working with her church's youth, traveling, and shopping.
Welcome Danielle to Legal Services Alabama!