Legal Services of Alabama Appoints Wilcox County Resident as Lead Attorney for its Selma Office
By Desiree Taylor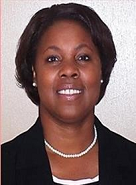 Legal Services Alabama is pleased to announce its appointment of Felecia Pettway of Wilcox County as the new Managing Attorney for its Selma Office.
Pettway, who assumed her position on April 3, will lead LSA's efforts in providing free civil legal aid to low-income individuals and families who cannot afford legal representation in the Black Belt.
LSA Executive Director Artur Davis, who served the Black Belt for eight years in the U.S. Congress, knows the importance of legal advocacy in this long neglected region.
"I recognize that many people in West Alabama need legal help but can't afford to hire a lawyer," Davis said. "I also quickly realized in my first months on this job that Legal Services of Alabama needed to do a lot more to reach and identify low-income people who need an effective lawyer to fight for their interests. Mrs. Pettway has an incredible record of leadership in the corporate, civil and legal community, and she brings the credibility of demonstrated commitment to West Alabama to her new role."
Pettway has a long history of accomplishment, as an award-winning sales agent for GE, as the former Executive Director of the Voting Rights Museum, and as senior executive at Wallace Community College. She decided to make a mid-career change to practice law, and since 2010, has been a solo practitioner in Wilcox and Dallas counties, focusing on general civil law and criminal defense.
"I understand the needs of the community … having been in the community and worked in the community, I know how to address those needs," Pettway said. "There are people who can't afford legal services. Some will sign contracts that are unrealistic and unfair. I want to fight for their cause and let the people in this area know that they have an advocate who will work for them."
In her new role, Pettway plans to hold seminars and workshops to highlight the services that LSA offers. These services include resources for domestic violence, public benefits, consumer issues, housing, elder law, disaster relief, low-income taxpayer assistance, and access to education for public school children. In addition to these traditional fields where LSA has focused, Pettway says that her office will be prepared to assist low-income people in special areas of law where there is a high demand in West Alabama, such as heir-property, elder law, and rights restoration.
"I feel as if a part of our responsibility as individuals is to be good stewards of community –giving back, and helping those in need," Pettway said. "Legal services is a perfect platform to give back to individuals who may not be able to afford the services of an attorney … the fairness of our legal system depends on people having representation when they need it."
Pettway, a native of Alberta, Ala., holds a Juris Doctor from the Miles School of Law, Master of Science in Management from Faulkner University, and a Bachelor of Science in Criminal Justice from the University of Alabama. Pettway has been admitted to the Alabama State Bar and the U.S. District Courts, and Southern and Middle Districts of Alabama.
For more information, please visit www.legalservicesalabama.org.