Advocate of the Month: July 2018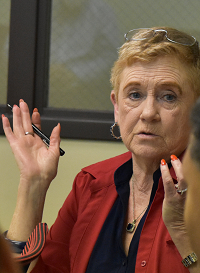 Our July 2018 Advocate of the Month is Mary Jane Oakley. Mary Jane joined LSA in June of 1983. Oakley's specialty practice areas include: public benefits, consumer and housing cases. Oakley has served LSA (and its predecessor organization) in numerous capacities including, most recently, becoming Empowerment Lead Attorney in 2017. Mary Jane has also served on the board of several organizations, including as president of Women and the Law. Mary Jane has active memberships with the Southeast Alabama Coalition for the Homeless, the Houston County Association of Service Agencies, the Dale County Association of Service Agencies, and the HIV Prevention Network for the local Department of Public Health. A graduate of the University of Alabama's School of Law and a member of LSA's High Impact Litigation Unit, Oakley currently works in the Dothan Regional Office.
Among other people Mary Jane helped in July, was a single mother whose income was the sole source of support for her family. When the client came to LSA with a garnishment, Mary Jane helped her file a Claim of Exemption to protect her wages. With Mary Jane's help, the client was able to continue using her minimal income to provide for her daughter.
In one case, Mary Jane helped a couple who had fallen behind on their rent due to illness, deal with their eviction. After Mary Jane contacted the landlord's attorney, the case was resolved and the eviction was dismissed.
In another case, Mary Jane helped a child who was cut off from disability benefits when the Social Security Administration believed it had found land owned by his parents. After Mary Jane appeared in the case and explained the mistake, the child was restored to benefits, including medical insurance, and was paid all of his back benefits.
Mary Jane also helped an elderly and disabled client deal with a case where she was being contacted by numerous creditors who all claimed that she owed them the same debt. With Mary Jane's help, the law suit filed by one of them was dismissed before trial.
Finally, in one last case, Mary Jane noticed a consumer client had not listed food stamps as part of her income (although the client should have been eligible). Mary Jane talked with the client, helped her fill the forms out, and then dealt with the Department of Human Resources when problems came up. In the end, not only did Mary Jane help the client avoid the judgment in the other case, she helped her get $93 in food assistance every month.
This month and every month, we here at LSA are very proud of the work done by Mary Jane and the Dothan Office. Congratulations Mary Jane!
Michael Forton, Director of Advocacy