LSA Announces the Advocate of the Month for July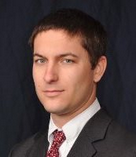 By Michael Forton, Director of Advocacy
Our July 2017 Advocate of the Month is Stephen Last. Before becoming official, Stephen volunteered at LSA both while in law school and after graduating. Stephen became a full-time member of the LSA team in October 2014, when he joined our call center as a staff attorney.  In 2016, Stephen transferred to the Montgomery local office where he currently practices in the areas of consumer and mortgage foreclosure law. Since that time, Stephen has helped hundreds of poor Alabamians protect their two most precious possessions – their homes and their paychecks. In July, Stephen's diligence helped a number of our clients overcome collection suits.
In one case, Stephen dealt with an unscrupulous car dealer trying to swindle a client out of her down payment. In that case, after the client had put down $1,500 on a vehicle, the dealer repossessed the car after the client was only two days late on the next payment. After reviewing the loan documents, Stephen determined that the way the deal was structured actually violated the federal Truth in Lending Act. Stephen's discovery pressured the dealer to return the $1500, which enabled our client to take her money to a reputable dealer.
In another case, Stephen helped a college student accused of causing over $18,000 in damages while renting an apartment. Stephen understood what this kind of crippling debt could do to a student trying to build a life. After Stephen filled several counterclaims and asked for a jury trial, the landlord backed down and agreed to drop the suit.
Stephen also won a favorable outcome for a client who was being sued by a deceased friend's estate for money owed from a loan. Stephen skillfully negotiated a resolution in which the client, who had used the loan to buy a car from the deceased party, would return the car to the estate to settle the debt.
Sometimes at LSA, maneuvering a case to a fair resolution that avoids a lingering debt is a victory.  It takes digging, thorough research, and bargaining skills to get there, and Stephen's good work this month reminds us that our cases are making a difference in people's lives.
We join all of Stephen's clients in thanking him for his commitment and hard work on their behalf!