Former LSA Staff Attorney Returns to LSA to Give Back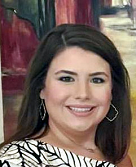 Legal Services Alabama recently welcomed back Birmingham native Dru Clark, as its newest Staff Attorney to the Mobile office, on Sept. 18.
Clark, who previously worked for LSA as a Staff Attorney in the Birmingham office, is excited about the opportunity to help offer a second chance to the lives of low-income persons in the Mobile area.
"I love the work that I do, the projects that I've worked on – such as the land loss project in Birmingham," Clark said, who works under the "Leaving a Legacy" Heir Property grant project with the City of Mobile. "I enjoy working with first-time homebuyers and educating them about the process. I am so happy to be back at LSA working a new project with the City of Mobile."
Through the "Leaving a Legacy" project, LSA will offer Wills, Powers-of-Attorney, Advanced Directives and other estate documents for low-to-moderate income citizens of Mobile. Clark stated that because wills and estate planning are often out of reach financially to many Alabama homeowners, this project allows LSA to not only provide these very important documents, but to also educate clients on the legalities of property ownership and other probate issues. 
"This project is special to me and gives me the opportunity to educate the community and help it to grow," Clark said. "Heir property is not only a problem for the community, which can create a burden on the family, but it is an issue that continues to plague the state. Being able to work on the frontlines with this, is really important to me."
Heir property, or property that is inherited (or a relative transfer) by two or more people, with no formal recording of how the property is to be shared, presents issues when not properly cared for: such as taxes going unpaid, and sometimes the property is left vacant.  Often times, the family will lose the property. This project will help with proper estate planning and also address using a will to prevent land loss.
Clark stated she's already received numerous calls this week, regarding Heir property services. The grant, Clark believes, will afford her the opportunity to work with clients who LSA may not normally work with.
"This is a great opportunity to interact with a different population, that may or may not know our services are available," Clark said. "This is an opportunity to do a lot of outreach with Legal Services as an organization – to teach clients about consumer law, even regarding car line issues (i.e., is it legal or illegal? etc.)."
With a bachelor's degree in English Literature and International Relations from Agnes Scott College in Decatur, Ga., Clark received her Juris Doctor from the Cumberland School of Law in Birmingham. While in Law School, Clark received the Spirit of Service Award, and participated in various trial competitions. When not handling cases, Clark is a gourmand and enjoys the varied cuisine of South Alabama!