Celebrate Pro Bono
October 2018 marks the 10th anniversary of the Alabama State Bar Association's National Pro Bono Month Celebration. Every October, the organization collaborates across the judicial system – with private attorneys, volunteers, Law Schools and the Courts from across the state offering free legal clinics, CLE programs, recognition events, and fundraisers. LSA's Selma Regional Office, recently partnered with the State Bar for a free Legal Clinic held inside the Selma-Dallas County Public Library. The clinic assisted low-income persons from across the Black Belt.
Linda Lund, Alabama State Bar Volunteer Lawyers Program Director, stated the clinic is crucial to the Black Belt, being that there are fewer attorneys practicing there.
"It's important for us to have events like this where we can service hopefully a larger number of people at one time rather than just by having a telephone number and having people call us one at a time," she said.
Pro Bono Month, Lund stated, is about education and urging lawyers to get involved.
"It's important that Attorneys be involved in Pro Bono work," Lund said. "We hope to educate the public and the Bar about the importance of pro bono, the pro bono work attorneys do all year long, and the effect it has on local communities."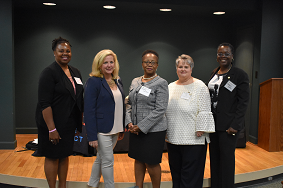 Former Pro Bono Task Force Chair and private attorney Jana Garner, who helped to spearhead the event, states the collaboration is all about lawyers "helping where they can."
"It's not about helping a specific type of person," Garner said, who currently practices in Selma. "I want to help educate and empower others. Education is what paves the way – makes the impact. By coming to free legal advice clinics, you get the knowledge you want, or you begin to learn how to obtain that knowledge in the future, in a different circumstance."
Elizabeth Hollie, Selma Office Staff Attorney, believes the Office's participation in the legal clinic was "vital."
"As a Regional office which services nine Black Belt counties, to have an opportunity to become more visible to our clients is crucial," Hollie said, who has been with LSA since March 2017. "We were able to talk to individuals who never knew there was a Legal Services Alabama office in this area. We also made contacts with some of the volunteer lawyers who assisted with the Clinic."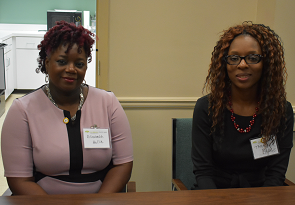 With just two attorneys, Hollie stated the office services more than "200 clients." Hollie stated there are "so many more" people who need LSA's services.
"It is important for our office to attend Pro Bono Legal Clinics such as the one held in Selma," she said.  "We are tirelessly working to get LSA's Selma Office's name out to those who need us … our time and resources are somewhat limited. With word-of-mouth by existing clients, judges and clerks, we have grown substantially since I started. We still have a long way to go, [but] with a sincere desire and drive to do so."
Alabama's Volunteer Lawyer Programs have also held Legal Clinics in Birmingham, Tuscaloosa, Huntsville and Montgomery.
For information about more pro bono activities, please visit the State Bar's website at: https://www.alabar.org/events/