Advocate of the Month: August 2018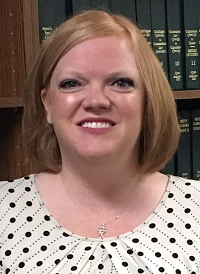 Our August 2018 Advocate of the Month is Laurie McFalls. Laurie first joined LSA as part of the Tuscaloosa Regional Office, providing legal help to tornado victims in 2011. In 2012, Laurie transferred to the Huntsville Regional Office, where she currently works in a wide range of areas including: consumer, public benefits, housing and domestic law. Laurie is a member of LSA's High Impact Litigation team as well as being Lead Attorney for LSA's Education practice group. Since starting at LSA, Laurie has proved herself to be one of the hardest working and accomplished young attorneys with the program. In August, Laurie proved this once again by helping a large number of people with a wide variety of problems.
In August, Laurie was able to help three children, threatened with missing school, to get enrolled when their lives became disrupted due to unforeseen circumstances. In one of those cases, a school refused to enroll a child whose mother passed away several years ago when the child's family attempted to enroll her for the current school year. After only a couple of calls, Laurie was able to ensure that the child would be in school on the first day of school (and would not miss any time) due to this family tragedy. In another case, Laurie was able to help two children who had recently become homeless due to housing instability. In that case, the children were staying with their grandparents while their father searched for work and a stable home outside of the state.
In another case, Laurie helped a family retain their housing when they were threatened with eviction for failure to pay illegal fees. Because of Laurie's intervention, the family avoided being homeless, and were only required to pay the amount they truly owed to the Landlord.
In several other cases, Laurie successfully represented clients in cases where debt collectors attempted to receive judgments or take wages from her clients. In one case, LSA's client was sued by a company claiming to have purchased an old debt against our client. In that case, the court determined that our client actually did not owe the money. In two other cases, Laurie helped two clients avoid garnishments, which would have been devastating to their families.
Lastly, Laurie assisted a child facing expulsion in a rural county based on Social Media activity. With Laurie's help, the child received an appropriate punishment, and will continue to receive an education in the classroom.
LSA is very proud of Laurie, and we are so excited for the work she will continue to do! Way to go Laurie, and keep it up!
Michael Forton, Director of Advocacy