October 2018 Advocate of the Month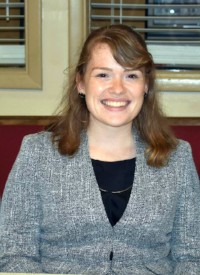 Our October 2018 Advocate of the Month is Andrea "Rae" Bolton, Staff Attorney in the Birmingham office. Prior to coming to work for LSA, Rae clerked for Judge Michael Graffeo and volunteered for LSA. Rae's practice covers all of LSA's core service areas including consumer, housing and family law. Every month, Rae is a tenacious fighter for her clients and October was no exception. Congratulations Rae!
Among the people Rae helped in October, was a senior whose landlord locked her out of her home when she failed to pay the rent. The client had fallen behind due to a recent medical problem that led to the loss of her job (and insurance). With Rae's help, the client was able to move back into the house, regain the use of her personal property, and was able to get the time she needed to move with dignity without owing any back rent.
In October, Rae also helped two victims of domestic abuse escape from two very bad situations. With Rae's help, both clients were able to become free of their husbands financially, and make a fresh break. In the final decrees, Rae's clients not only got sole custody of the children involved (subject to visitation), but also orders that should continue to protect her clients for years to come.
Rae was also able to help a client who lost her job and was denied unemployment to deal with the public housing system. In that case, the client's rent had been tremendously over calculated due to the fact that the client had failed to report the loss of her job. With Rae's help, the client was able to work out the situation and save her home so that she can continue to focus on looking for new employment.
In October, Rae also helped a client whose husband returned after 20 years of being absent and tried to use a divorce in order to take the client's home after she had paid off the loan. With Rae's help, the client not only protected her home, but the husband was ordered to pay his share of the couple's joint debt.
Finally, Rae also helped a single mother of two who was locked out of her uninhabitable home. With Rae's help, the client was able to legally break her lease, have all prepaid rent and her security deposit refunded, and move on with her life.
LSA is proud of the work of all of our attorneys over the years, and is very proud of the history we have created together. With attorneys like Rae, LSA is continuing to ensure great representation for our clients. Thank you, and keep it up Rae!
By Michael Forton, Director of Advocacy