Advocate of the Month: March 2018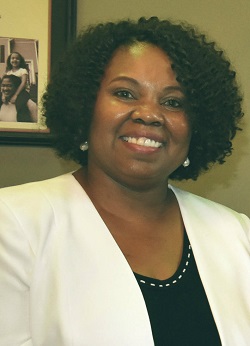 Our March 2018 Advocate of the Month is Felecia Pettway. Felecia joined LSA in April 2017. Prior to joining LSA, Felecia had a range of professional experiences. She has participated on many Alabama State Bar Association committees and has served as a Teen Court Judge for the Dallas County District Court. Felecia received a J.D. from Miles School of Law, a Master of Science in Management from Faulkner University, and a Bachelor of Science in Criminal Justice from The University of Alabama. Felecia has served as a Managing Attorney since joining LSA.
Among the people helped by Felecia in March, was a daughter living in her family home after her mother died. Felecia helped to determine that among other issues, the client was charged the homeowner's insurance three times in one month. With Felecia's help, the client was able to reach a deal and save her home.
Felecia also helped a client escaping from domestic violence to retain custody and child support so she could move on with her life and begin to heal with her family.
After a client's home was destroyed by fire, she turned to Felecia for help. With Felecia's help, she was able to get back her deposit and the last month's rent and move on with her life.
In one final case, Felecia helped a client who had been formerly unable to vote in Alabama due to a prior conviction. Due to a change in the law in 2017, Felecia was able to help the client have her right to vote restored.
This month and every month, we here at LSA are very proud of the work done by Felecia and the Selma Office. Great job Felecia!
By Michael Forton, Director of Advocacy