June 2018 Advocate of the Month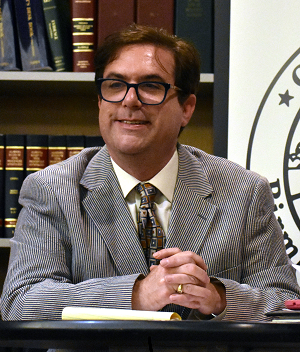 Our June 2018 Advocate of the Month is Michael Letson. After working in LSA's Florence Office from 2005 until 2012, Michael re-joined LSA in June of last year. Michael's work focuses on housing, consumer, domestic and elder law. Michael has served on a number of community organizations such as the Inner City Council (Lawrence County), North Alabama Children's Policy Councils, and the Board of the Jackson House Foundation.  A graduate of Miles Law School (2011), Michael currently works in the Birmingham Office.
In one case in June, Michael represented a client being evicted from public housing. The client came to LSA after the landlord wrongfully claimed that a man who assaulted another tenant was the client's "guest." At trial on the case, Michael was able to show that the only relationship between the client and the alleged "guest" was a brief conversation where the "guest" asked for a cigarette. With Michael's help, the client was able to prove that the landlord's assumptions – based on seeing the two together, were baseless, and helped her retain her home.
In another case, Michael helped a terminally ill client prepare for the end of life. After going over the client's wishes, Michael travelled out to the client's home so that she could execute the documents. With Michael's help, the client was able to stop worrying and focus on the more important things in her last days.
In several cases, Michael helped his clients deal with the difficult problem of transferring assets after the death of a loved one. In one case, Michael helped an elderly man receive the proceeds of his wife's estate after she passed. In another case, Michael helped a mother receive a small insurance check after her son died tragically, by preparing an heirship affidavit.
In one final case, Michael helped a victim of domestic abuse extend a Protection from Abuse order that allowed her continued protection from her abuser.
This month and every month, we here at LSA are very proud of the work done by Michael and the Birmingham Office. Way to go Michael!
Michael Forton, Director of Advocacy