Advocate of the Month February 2018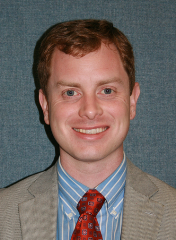 Our February 2018 Advocate of the Month is Tyler Brannon. Tyler joined LSA's Huntsville Office in 2014. Tyler specializes in family and domestic violence law. A graduate of George Mason University School of Law in Arlington, VA (2010), Tyler worked as a legal intern for FairVote in Maryland. Brannon currently serves as Staff Attorney at the One Place of the Shoals Family Justice Center in Florence, AL. Since starting at LSA, Tyler has proved himself to be one of the hardest working and accomplished young attorneys with the program. In February, Tyler proved this once again by helping a large number of people with a wide variety of problems.
Among the people Tyler helped this month, was a woman who came to LSA after her violent and dangerous husband violated our client's protection order. LSA appeared in the case and was able to get the husband served although he continuously tried to hide out in another state. In the end, Tyler was able to get our client the divorce she needed to start a new life.
In another case, Tyler represented an elderly woman who lived alone to deal with unscrupulous debt collectors. Tyler appeared at trial and proved that our client did not, in fact, owe the debt she was accused of owing. With Tyler's help, this client was able to face the future with peace of mind.
In a different case, Tyler helped a client receive a PFA to protect herself and her child from her abusive ex-boyfriend.  In that case, LSA was able to receive a year-long protection order keeping our client safe from her abuser's history of violence and drug use.
In February, Tyler also helped a client receive a divorce involving a client with no property when her abuser tried to extort $5,000 in exchange for a divorce. With LSA's help, the abuser came to understand that eventually the client would receive divorce one way or another, and agreed to sign.
This month and every month, we here at LSA are very proud of the work done by Tyler. Thanks again, Tyler!
Michael Forton, Director of Advocacy