ADECA VOCA grant helps improve DV services in the River Region
The Alabama Department of Economic and Community Affairs (ADECA) awarded the One Place Family Justice Center (OPFJC) and Legal Services Alabama (LSA) with a Victims of Crime Act (VOCA) grant in June 2017, to assist the organizations with expanding domestic violence services.
Since receiving the grant, LSA hired Valynda Jerome-Williams – a Domestic Violence Staff Attorney, in August to assist longtime Domestic Violence (DV) Staff Attorney and DV Advocacy Chair, Jim Smith, with victims in crisis intervention services at the OPFJC. Additionally, the award provided additional staff, as well as two case managers and an attorney for the Family Sunshine Center (FSC).
Jerome-Williams, has a background in Social Work/Social Policy Administration and has worked in the Family Violence Legal Clinic at OPFJC. Since coming to LSA, Jerome-Williams has helped roughly 30 clients.
"The traffic is pretty consistent," Jerome-Williams said. "We see a diverse group of clientele. We see a lot of young mothers – early 20s, with very young children that present a history of domestic violence – they are in a state of crisis. They are looking for help and have come to the right place."
LSA, Jerome-Williams said, helps families as a whole, offering victims the necessary tools to regain "independence and autonomy." Jerome-Williams stated LSA helps families with early intervention.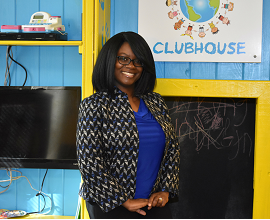 "I love the work that I do. It is the most meaningful work I feel that an attorney can do," she said. "It is an opportunity to shift the paradigm – that family dynamic. We have an opportunity to serve the victim in safety planning and legal assistance. We're helping the victim break free of their current situation."
Jim Smith, who has been with One Place since its inception in 2010, stated the grant has been "game changing."
"I'm in court on average five or six times a week – I see new clients as often as I can, in between court and seeing other clients," Smith said. "Most of our clients work, and all of our clients have low-income; it's incumbent upon us [LSA attorneys] to modify our schedules to see them; we can deliver outcomes that hopefully are better than the alternative. I hope the ADECA grant will enable Legal Services Alabama to continue to maintain a presence at One Place Family Justice Center]."
Starting his career as a community organizer/volunteer in Arkansas, it was in that arena, Smith said, that he was introduced to the idea of poverty issues. For Smith, going to Law School seemed like a natural progression.
Some time after Law School, Smith took a case out of Hayneville in Lowndes County that would mark a turning point:
"We had a meeting at one of the churches there, where we met with this community group," Smith said, who worked for LSA's Gadsden office at the time. "Afterwards, a young woman came up to me and asked if I could help her with her personal problem. She of course described an abusive relationship with her husband, who was abusive to her and the kids.
"I started to tell her that we don't do Family Law cases, and she said, 'As much as I want to vote in my hometown of Hayneville, I don't think I'm going to live that long.' I couldn't deny what she was saying."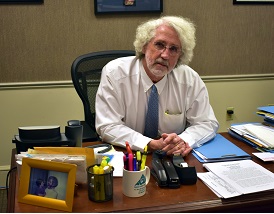 To Smith, the case wasn't just another divorce issue, but addressed a fundamental issue of "civil rights."
"I represented her through her divorce," Smith said. "We filed a divorce, got her a restraining order, got her custody of the kids and child support … You feel good about your clients feeling good about the outcome of a case. We [LSA] then started doing domestic violence cases."
Smith stated that OPFJC brings much value to abused victims and the community: "[The Family Justice Center] has the ability to tear down silos that institutions put up for their own self service," Smith said. "In a sense, folks who work here think of themselves as working for the Family Justice Center. We are working here together – cross professionally – social workers, cops, prosecutors, civil legal services, as one team."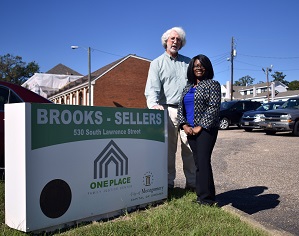 LSA Interim Executive Director, Jaffe Pickett, who worked with OPFJC on drafting the proposal, noted that LSA has partnered with OPFJC on domestic violence grants and received VAWA funding in the past and recently on an Elder Abuse Project and feels LSA's role in serving victims is one that goes to the core of our existence, "LSA's mission of serving those in the most economic need and those who are vulnerable and have nowhere else to turn, makes our partnerships on funding opportunities like these critical," Pickett said. "There is no other agency in Alabama who comes to the aid of victims, providing holistic legal services, so our services in this area are important to victims, families and ultimately the state of Alabama." 
ADECA is administering the grant from funds made available to the state by the U.S. Department of Justice to expand the free, professional services available to victims of domestic violence in Montgomery County.