Facts and Questions
Who is Legal Services Alabama?

LSA is a statewide 501(c)(3) Non-profit law firm that increases access to justice by providing high quality civil legal assistance to low-income individuals and families from our statewide call center and seven offices located in: Birmingham, Dothan, Huntsville, Mobile, Montgomery, Selma, and Tuscaloosa.

Please click here to see the types of cases that we may consider. While this is not an extensive list, it covers a majority of the types of cases we may take.

How long has Legal Services Alabama been working for Alabamians?

Legal services programs have been in Alabama since the 1970's and have served financially-eligible, low-income Alabamians. In 2004, three legal service programs combined to form Legal Services Alabama to carry on the important job of helping eligible residents in need of legal assistance.

The U.S. Department of Health and Human Services establishes the income amounts used to determine eligibility. They usually change early each year. Click on the logo to see the current poverty levels. The LSA eligibility level is 125% of the poverty level.

LSA recognizes that each client's situation and legal issue is different. If your household's income is more than 125% of the federal poverty level, you may still qualify for our services. LSA also has special grants to assist vulnerable populations that are not income based such as our elder grants to assist clients 60 and over. Please call us on our toll free number or make an online application to see if you meet the criteria for the types of cases we assist with.

How does Legal Services Alabama help the court system?

• LSA resolves the majority of its cases outside of the courts.
• LSA reduces the number of pro se (self-represented) litigants - having access to Legal Services means clients are not appearing in court on their own behalf ("pro se"), but have an experienced attorney to represent them, which increases court efficiency.

Is Legal Services Alabama the only organzation working on behalf of low income residents?

LSA is the only nonprofit law firm providing free legal aid statewide. Other organizations provide legal help to people in one or more regions in the State. LSA complements the efforts of family shelters, law enforcement, social services, mental health, and other agencies by enabling clients to act on the advice, education, or information received from those agencies in an informed way. Together, we work to improve the lives of residents who may otherwise not have the financial resources or legal understanding to improve their lives, such as securing a safe place to live and thrive.

What happens if my application is not accepted?

Legal Services Alabama has limited staff resources and we try to take as many civil cases as we can. Unfortunately, not all cases can be accepted. The intake staff have information on other organizations that can assist clients. There are five volunteer lawyer programs in the state that cover specific counties so some cases are referred to them. There are clinics held where residents have the chance to speak with an attorney for advise. Domestic shelters and other charitable groups can help with immediate needs. If LSA is not able to assist an applicant, staff will give information on other resources that may be available.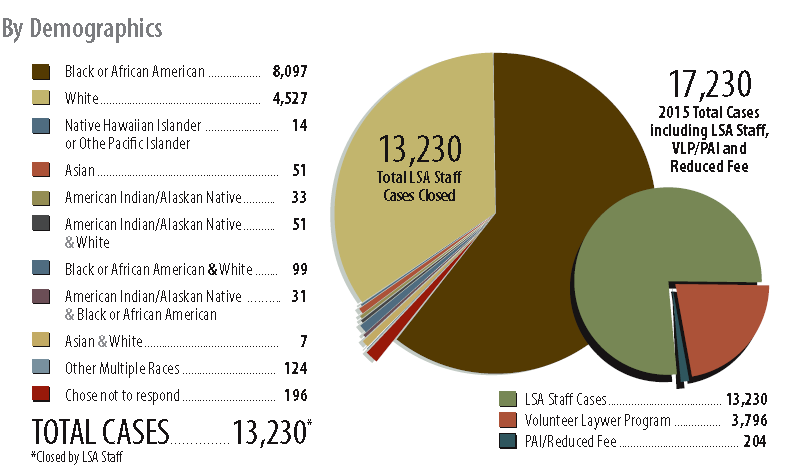 HOW LSA HELPS PEOPLE
By providing representation on critical legal matters in judicial and administrative forums.

By providing timely legal counsel and advice.

Through community education about rights and responsibilities ("preventative" law).

Through development and distribution of legal self-help materials and forms.
Protecting Consumers:
 Consumer issues can have a negative effect on household income, which can lead to a downward spiral of issues such as eviction, utility terminations, etc. We help consumers navigate the court system, where the debt collection industry often preys on consumers' lack of knowledge to obtain fraudulent default judgments and seize a client's paycheck, home, and property, often in violation of the law. We help debtors assert all available exemption rights and also force creditors to prove their standing in debt collection suits, which they are usually unable to do. Many elderly clients with no healthcare face catastrophic illness and medical bills, pushing them into bankruptcy. In those situations where a bankruptcy is a reasonable option to resolve legal problems, we represent clients in filing a bankruptcy case. We also help consumers enforce their rights regarding product warranties, clearing up credit reporting errors, reporting identity theft, and problems with public utilities.
Preventing Family Violence:
 This is an area really utilized by LSA clients. LSA assists with family law cases, when domestic violence (spouse, elder or child abuse) is present. We assist victims of domestic violence who need an order of protection or a restraining order to protect themselves or their children. We assist victims in filing a Protection from Abuse petition or a divorce. In the course of this representation, Legal Services can also represent victims in seeking custody of minor children, child support, and other relief that will enable them to start a new life that will be free from abuse.
Securing Shelter and Preventing Homelessness:
 LSA helps clients in public housing, Section 8, or other government subsidized housing programs to obtain services, resolve grievances, or contest an eviction. In private housing - where a landlord is not complying with the terms of the clients lease or is trying to evict them - we advise clients concerning their rights and may represent them in court if they are sued. In cases where clients are having problems with the mortgage on their home or other problems concerning the home and land they own, Legal Services is there. Heir property rights and land loss prevention are of particular concern in poor rural areas with small family and minority farmers.
Ensuring Healthy, Stable Families:
 If a client is eligible for Medicaid or Medicare and is having problems getting them to pay for covered medical treatment, LSA can assist them in obtaining coverage. If clients are having problems receiving public assistance benefits that they are eligible for and need to take care of their children, we can assist them in making sure that eligibility and benefit levels are properly determined.
Assisting the Disabled in Achieving Independence:
 LSA works to ensure that low-income, disabled individuals in Alabama have access to medical care and a subsistence income, through Medicaid and other forms of government assistance. We promote strategies that enable people with disabilities to live as independently as possible. LSA also represents clients when they are receiving Social Security disability and there is a threat their benefits will cease.
Assisting Seniors:
 Alabama's senior citizens are faced with multifaceted problems on a daily basis. LSA partners with Central Alabama Aging Consortium (CAAC) in the Montgomery office and Jefferson County Office of Senior Citizen Services and East Alabama Regional Planning Commission in the Birmingham office to assist elderly clients with Medicaid and Medicare problems, nursing home issues, wills, durable powers of attorney, Advanced Health Care Directives, probate problems and numerous consumer issues where unfair advantage is often taken of the elderly.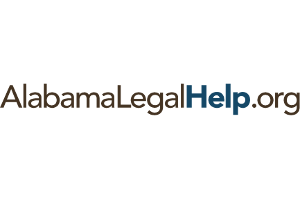 Helpful Information
Do you have questions about a legal issue? Please visit our legal help site for information about various legal issues you may be facing.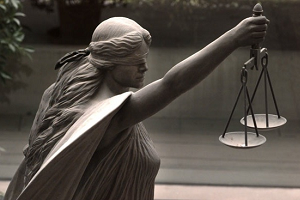 The Advocate
Click here to learn more about what LSA has done and is doing in the lives of Alabamians.