To apply for FREE legal aid in Alabama, call our central call center:TOLL FREE: 1-866-456-4995 En Español: 1-888-835-3505OR Apply ONLINE (Our application is hosted by LegalServer)
Legal Services Alabama (LSA) serves low-income people by providing free civil legal aid and assistance and by promoting collaboration to find solutions to problems of poverty from seven offices located in: Birmingham, Dothan, Huntsville, Mobile, Montgomery, Selma and Tuscaloosa.
Meet Our Newest Practice Group
Legal Services of Alabama has always prided itself on making the legal landscape fairer for low income people in our state. As we represent clients in our main practice areas--consumer and housing law, family law, and public benefits eligibility--it becomes clear to our lawyers that there are issues that keep coming up in our day to day caseload. These are systemic challenges in the law that affect numerous Alabamians, and they require an organized effort from our lawyers in local and statewide appellate courts, or even the federal level, to push for the adoption of legal standards that are in the best interests of low income Alabamians.
That is why we have organized our first High Impact Litigation Unit at LSA. Chaired by our Director of Advocacy Michael Forton, the group consists of seven experienced lawyers from across our program: Marie Davis, Mary Anne Oakley, Jim Smith, Wilson Webb, Joseph Abrams, Laurie McFalls and Farah Majid.
A message from our Executive Director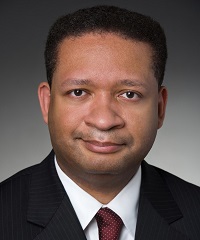 We are Legal Services Alabama, and we are proud to be a public interest law group representing low income Alabamians who need civil legal services. Our seven full-time offices service all 67 counties, making us the only statewide organization dedicated to broad civil representation for indigent and low wage members of our community.
Many of us at LSA are asked just who our clients are: the best answer is they are our neighbors. Their ranks include victims of domestic violence who have been battered in every possible way by their abusers; families who don't know if they will have shelter a week from now; working people who are being crushed by debts and don't know if there is anything left of this notion we call the American Dream. Some of our clients have struggled for years, some never thought they would need our help. When these Alabamians come to us, they are usually down to one last voice on their behalf. Our team strives every day to honor that trust with compassion and dignity.
Please let us know if we can help you. We offer our service at no charge for those who qualify.
Artur G. Davis, Executive Director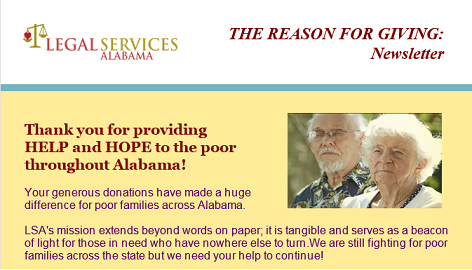 Click here to sign up for our Reason for Giving Newsletter!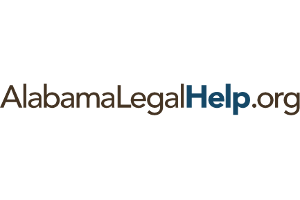 Helpful Information
Do you have questions about a legal issue? Please visit our legal help site for information about various legal issues you may be facing.
Helpful Resources
Please feel free to use this card to assist with prescription costs. No income eligibility is required.
Print out and fold in half. If you wish, you can tape or glue the front and back of the card together and cut it out so it can conveniently fit in your wallet or purse.

There is help. Avoid Foreclosure Alabama has information that can help you.

Legal Services Alabama is proud to announce a statewide partnership with the Alabama Housing Finance Authority to help unemployed and underemployed homeowners get the financial help they need to save their homes.

Visit the IRS website for information on how to get free tax help through the Volunteer Income Tax Assistance (VITA) program.

Tax Season is upon us. Tim Kingston and Maceo Kirkland from LSA's Low Income Tax Clinic have some tips that may help you.